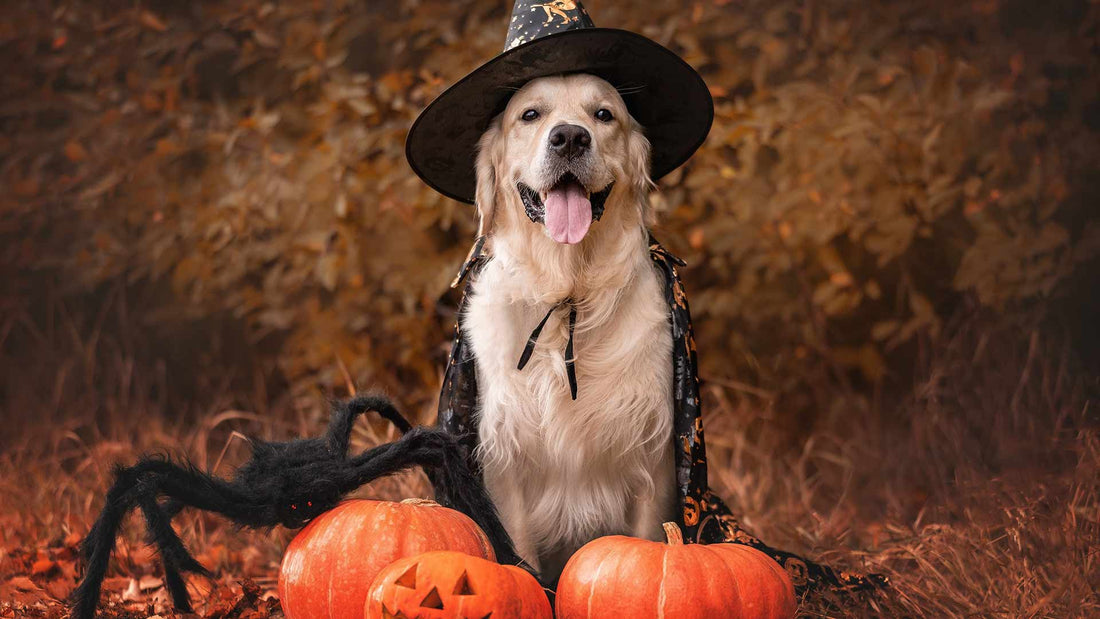 25 Dog Costume Ideas for 2023: Halloween Edition
What is more exciting than matching your Halloween costume with the perfect accessory, your pet? From pirates with their trusty parrots on their shoulders to a combo meal complete with fries and a drink, people worldwide love dressing up their pets. So this Halloween, find the most hilarious, cute, and easy dog costume ideas for your loving friends with these tips!
Dog Costume Ideas
Playing dress up with your favorite canine doesn't have to be reserved for Halloween. Instead, consider purchasing or making unique costumes for matching each holiday, especially for smaller dogs who love the extra warmth. Some popular year-round costumes include the biker dog, a referee of your favorite sport, a bride or groom, or even your favorite coffee slinger.
Active dogs can look stylish and sporty in windbreakers, working halters with pockets, and even hats and sunglasses. Finally, don't forget about your furry friend's sensitive paws; you can find shoes of all types, including waterproof paw-wear.
Your helpful companion deserves the best Halloween costumes available this year! Pair your costume with your dog's to make the best matching costume at the party. Check out these matching outfit ideas!
1. Winifred (Hocus Pocus)
Need a third to complete your sister circle? Dress your Fido as Winifred! 
2. UPS Driver
Have fun getting those packages delivered by the cutest UPS driver, and remember to box yourself up! 
3. Bat Dog
Are we going as a vampire? Don't forget your bat dog!
4. Thing One & Thing Two
Have two adorable four-legged munchkins? Opt for the kid-friendly Cat in the Hat costume with an adorable Thing One and Thing Two! 
5. Dragon
Dominate the Iron (or plastic) throne with a pup-dragon on standby for your Daenerys dress!
Related Reading: Doggo Lingo: The Pet Parent's Dictionary
Classic vs. Current: Making Laughs vs. Making A Statement
Classic dog costumes always make the "best of" list, and this year is no exception. So, consider trying out these costumes:
6. Wizard of Oz
Dress your little pup in a basket to match your Wizard of Oz costume.
7. Werewolf
Add a werewolf to your pack by finding an extra scruffy mane.
8. Beauty and the Beast
If you've got two pups, this is a great option. Recreate the classic pair according to your pups' personalities!
9. Teddy Bear
A small fluffy friend with a red bowtie usually does the trick here.

10. A Taco
Recreate a stuffed taco with a plain t-shirt or find a taco costume that lays over your pooches' back!
11. Hot Dog
Another classic that can be store-bought or DIY – bonus points if your dachshund rocks this outfit!
12. Pup latte
Whip up some fun this Halloween with a 'Pup Latte' costume!
13. Pumpkin
Turn your pup into the pick of the patch! This look is simply gourd-geous.
14. Holy Hound
Bless the dog park with the divine presence of your 'Holy Hound' this Halloween. Watch as they spread blessings, good vibes, and perhaps a few playful barks dressed in this heavenly attire
15. All Bones
Dig up a glow-in-the-dark fossil of a dog (sweater).
16. Mustard or Ketchup
Compliment your best friend by being a perfect pair like ketchup & mustard.
Depending on your costume theme, you may even be able to set up a wizarding competition or fight ghosts together.
Feel like making a political statement (or making fun of one)? Halloween is the perfect moment for that.
17. Presidential Pooch
Dress your furry friend in a presidential costume.
Related Reading: Presidential Pets: Every Dog to Step Paw in the White House
18. Marilyn Monroe
Were you going for more volume? How about a Marilyn Monroe cutie in her iconic white dress, complete with a choker and beautiful blond wig? Careful, you might get bit for laughing at her extra padding, though!
19. The Doggy Martini
We all have those times when we feel bad about our dog's situation with the dreaded cone of shame. So play it up this Halloween and make a martini.
20. Howling Hyena
Some beautiful breeds have the advantage over others and love the attention they receive when getting their costumes ready… at the dog groomers. Have the groomer trim your gorgeous Chow-Chow into a mighty hyena for the season.
Whether playing off of pop culture or current events, challenging the classic costumes usually pays off (in lots of treats of course)!
DIY Dog Costumes: Easy At-Home Costume Ideas
You don't need to spend a freakish amount of money to have the best in show dog Halloween costume. Create magic with everyday items around the house, especially for last-minute invites.
Some quick and easy ideas include:
21. Baaad Bat or Fairy Good Dog
Use your dog's harness, some felt, and a couple of popsicle sticks to craft a cute set of wings for a bat dog or fairy god dog.
22. Wizard
Use felt to cut out a glasses headband, wrap your wizard's school scarf around your pet's neck, and voila, instant wizard.
23. Cereal Killer
Want a killer costume quick? Use that empty cereal box, cut holes for the legs and back, and use the extra to create a paper butcher knife. Tape or glue the blade to the cereal box and place the container on your pup. Now you have an adorable cereal killer.
24. Beanie Baby
All you need to create the perfect beanie baby is a pair of scissors, paper, ribbon, and a red marker. Simply snip the paper into a heart shape, color with the marker in the iconic TY, cut a hole for the ribbon, and attach it to your pet.
25. Ghost
Of course, no DIY costume list is complete without the classic ghost made from a white sheet. When in doubt, why not keep things simple?
So, the next time you decide to have a matching Halloween costume or create a new and adorable look for your favorite pet, try a few of the ideas above and experiment with these paw-fectly adorable looks.
Join Our Pack
Follow us @NaturVet on social media to fill us in on any tips we might have missed. And, check out the rest of NaturVet.com. We'll keep you up to date on all our latest pet resources, supplements, tips and tricks, and more – everything you need to be the best pet parent possible!