Scoopables Quiet Moments® Calming Aid for Dogs
Regular price
Sale price
$19.99
Unit price
per
Scoopables Quiet Moments® Calming Aid for Dogs
Regular price
Sale price
$19.99
Unit price
per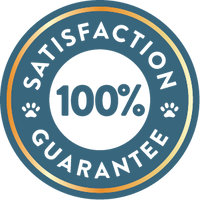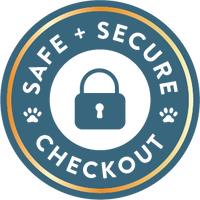 Scoopables Quiet Moments® Calming Aid for Dogs is flavor packed and bursting with tasty hickory smoked bacon flavor, perfect for finicky eaters and just as efficacious as our original soft chews.
Product Info

Veterinarian formulated for use in dogs over the age of 12 weeks. Our unique blend of Thiamine and L-Tryptophan help reduce stress and tension, Melatonin helps to promote rest and relaxation, and Ginger helps to settle sensitive stomachs, which is especially important during travel. Helps to promote a calming effect during situational stressful events such as storms, fireworks, travel, and grooming.
Active Ingredients

Active Ingredients per Scoop (7 g):
Chamomile 150 mg
Thiamine Mononitrate 100 mg
Ginger 100 mg
Passion Flower 100 mg
L-Tryptophan 30 mg
Melatonin 120 mcg
Inactive Ingredients

Apple Cider Vinegar, Bone Broth (Porcine Source), Canola Oil, Coconut Glycerin, Flaxseed, Lecithin, Molasses, Natural Flavoring, Oat Flour, Potato, Rosemary Extract, Sunflower Oil, Sweet Potato, Tapioca Starch, Water.
Directions For Use

| | |
| --- | --- |
| Weight | Amount |
| Up to 26 lbs. | 1/2 scoop |
| 27 to 50 lbs. | 1 scoop |
| 51 to 99 lbs. | 2 scoops |
| 100 lbs and over. | 3 scoops |

Give the recommended amount to your dog from your hand, or simply scoop directly into a bowl 30 minutes prior to stressful situation. Do not exceed double the above specified amount in a 12-hour period.
Cautions

If animal's condition worsens or does not improve, stop product administration and consult your veterinarian. Safe use in pregnant animals or animals intended for breeding has not been proven. Caution with concomitant use of MAO inhibitors and sedatives.

Warnings:
Not for human consumption. Keep out of the reach of children and animals. In case of accidental overdose, contact a health professional immediately. Due to the tasty nature of our products, do not leave package unattended around pets.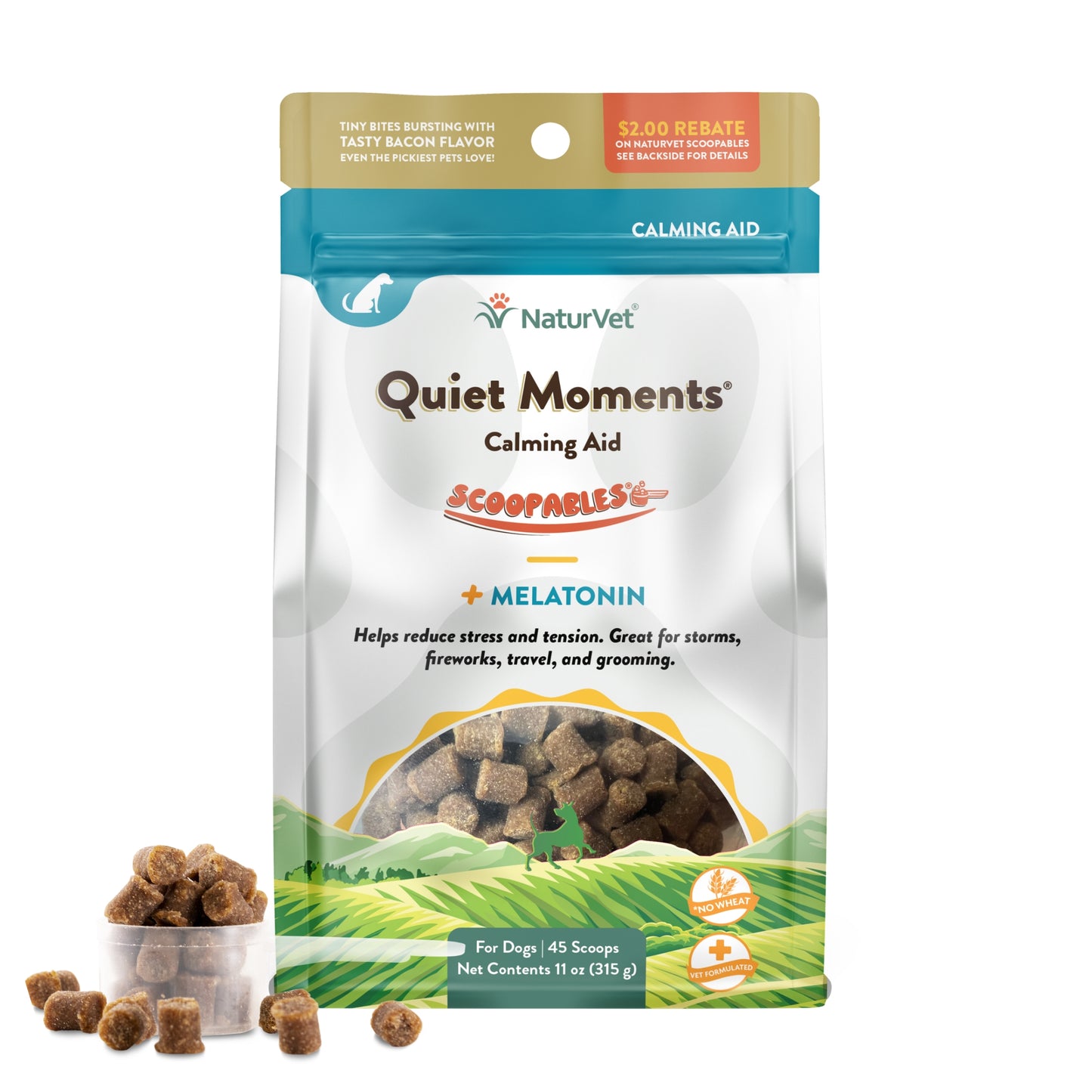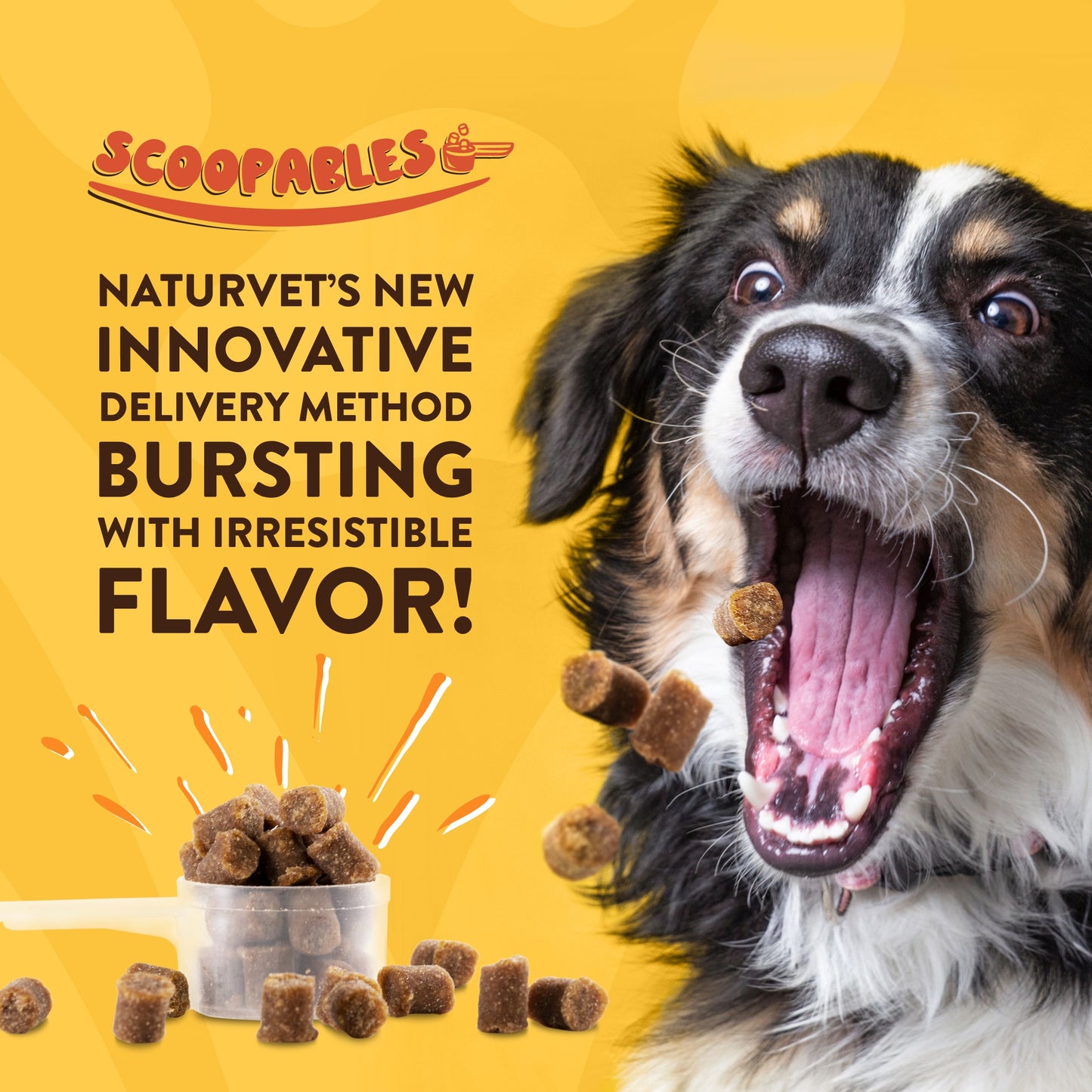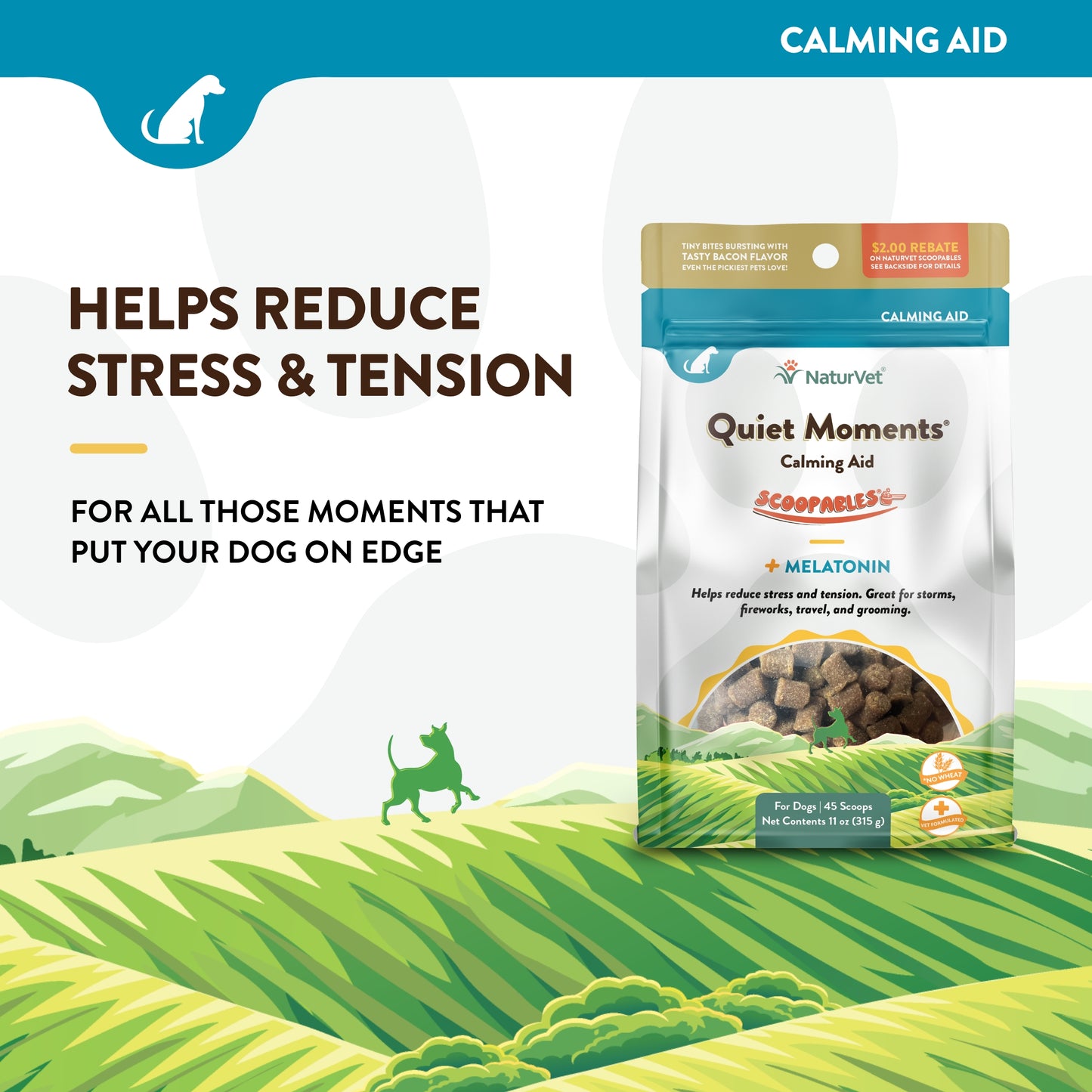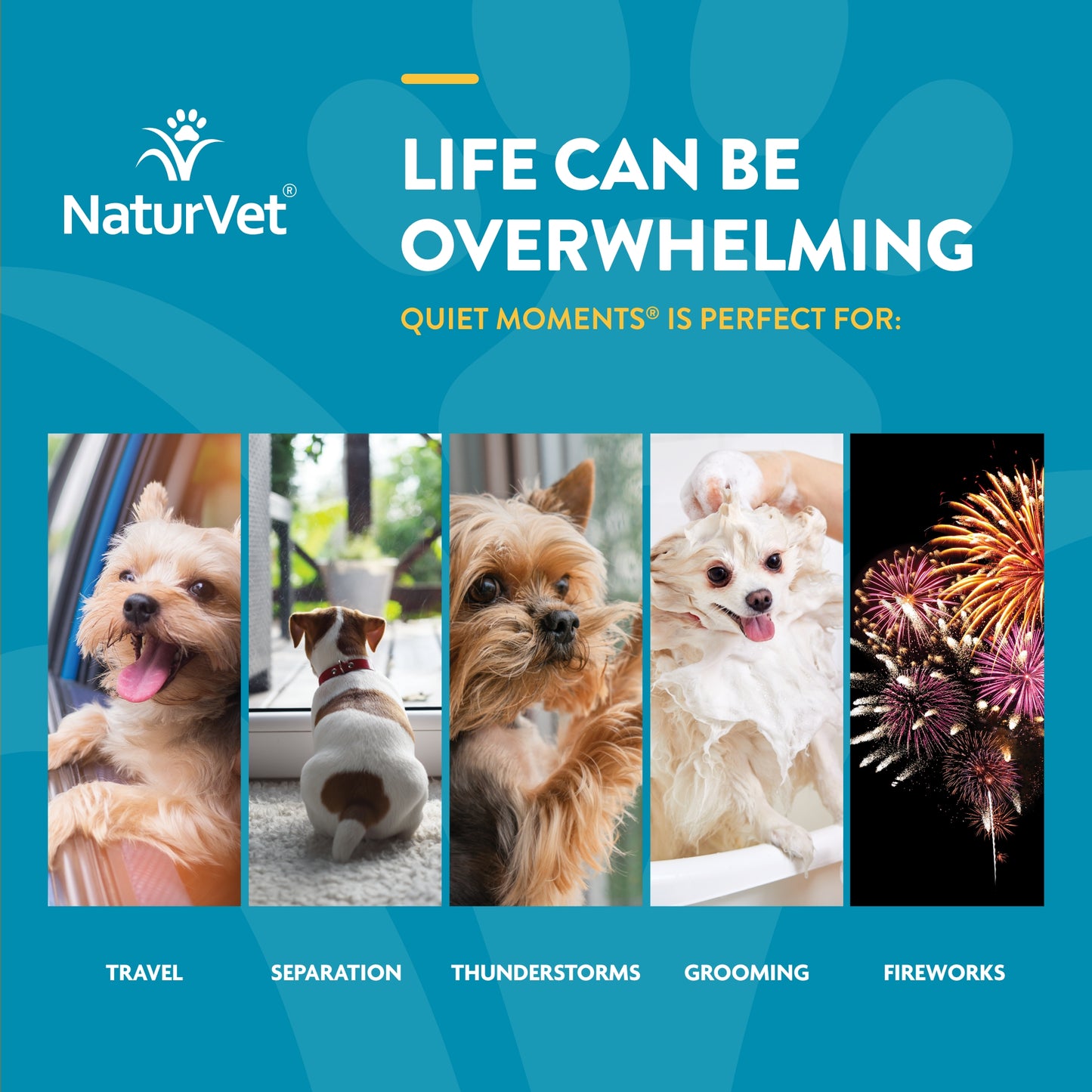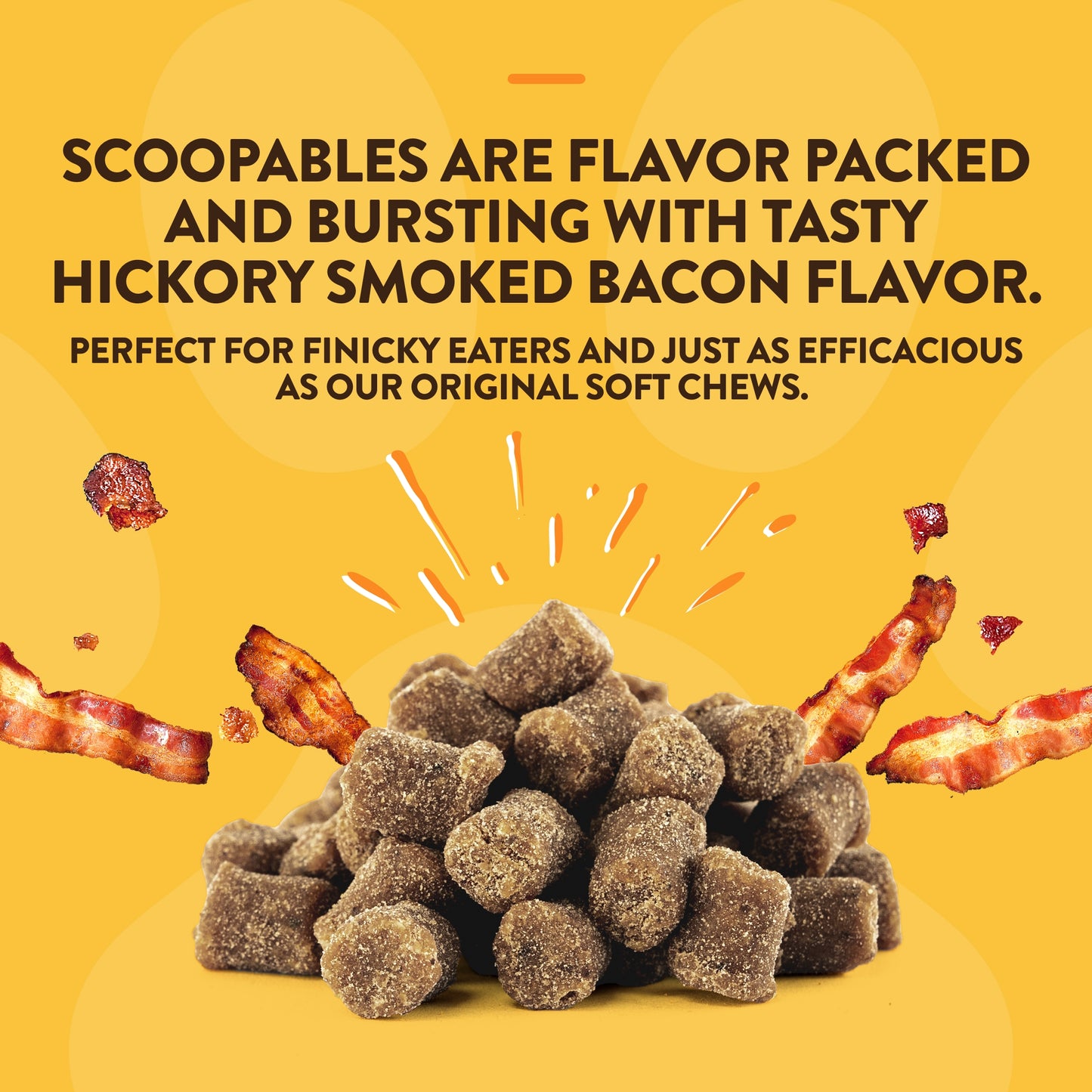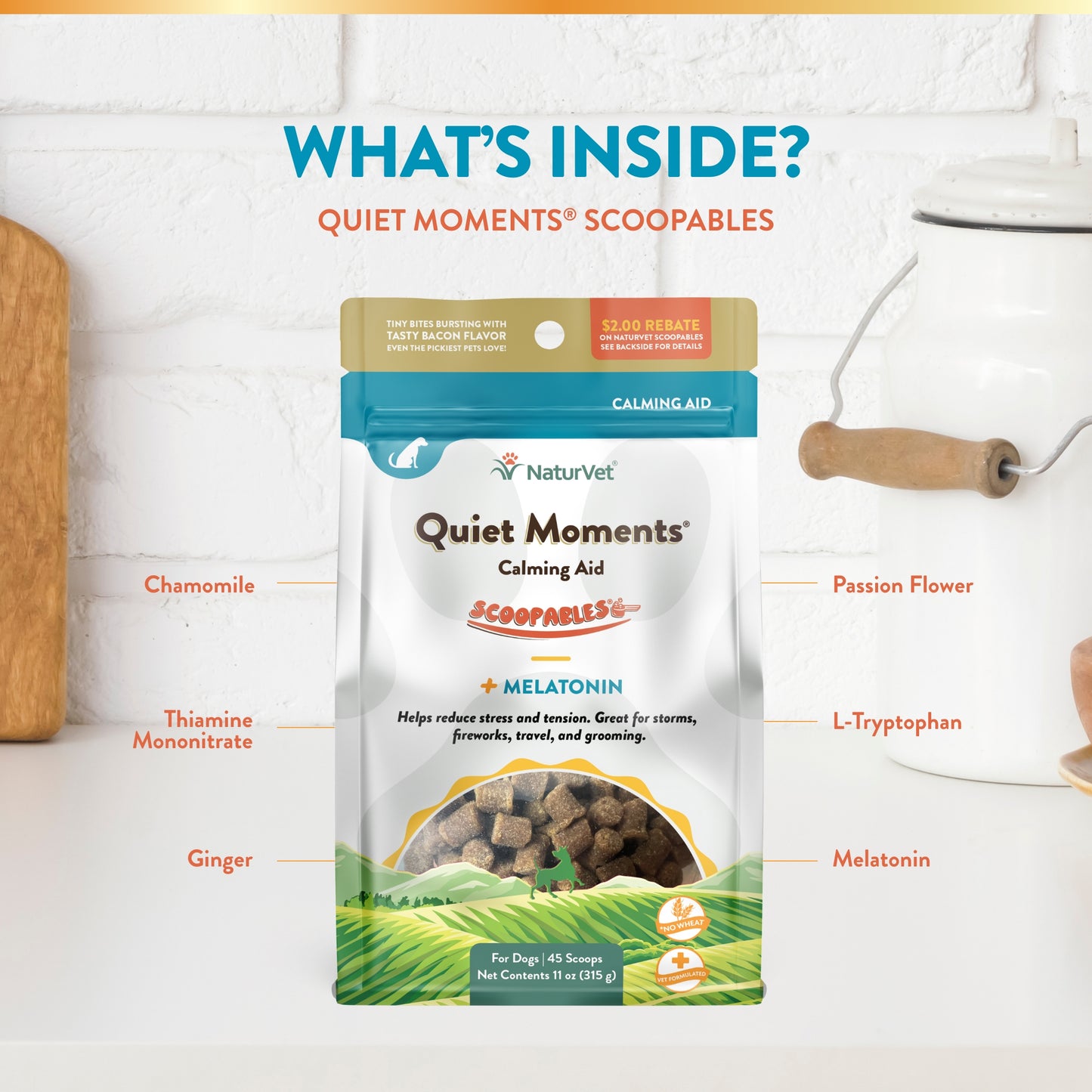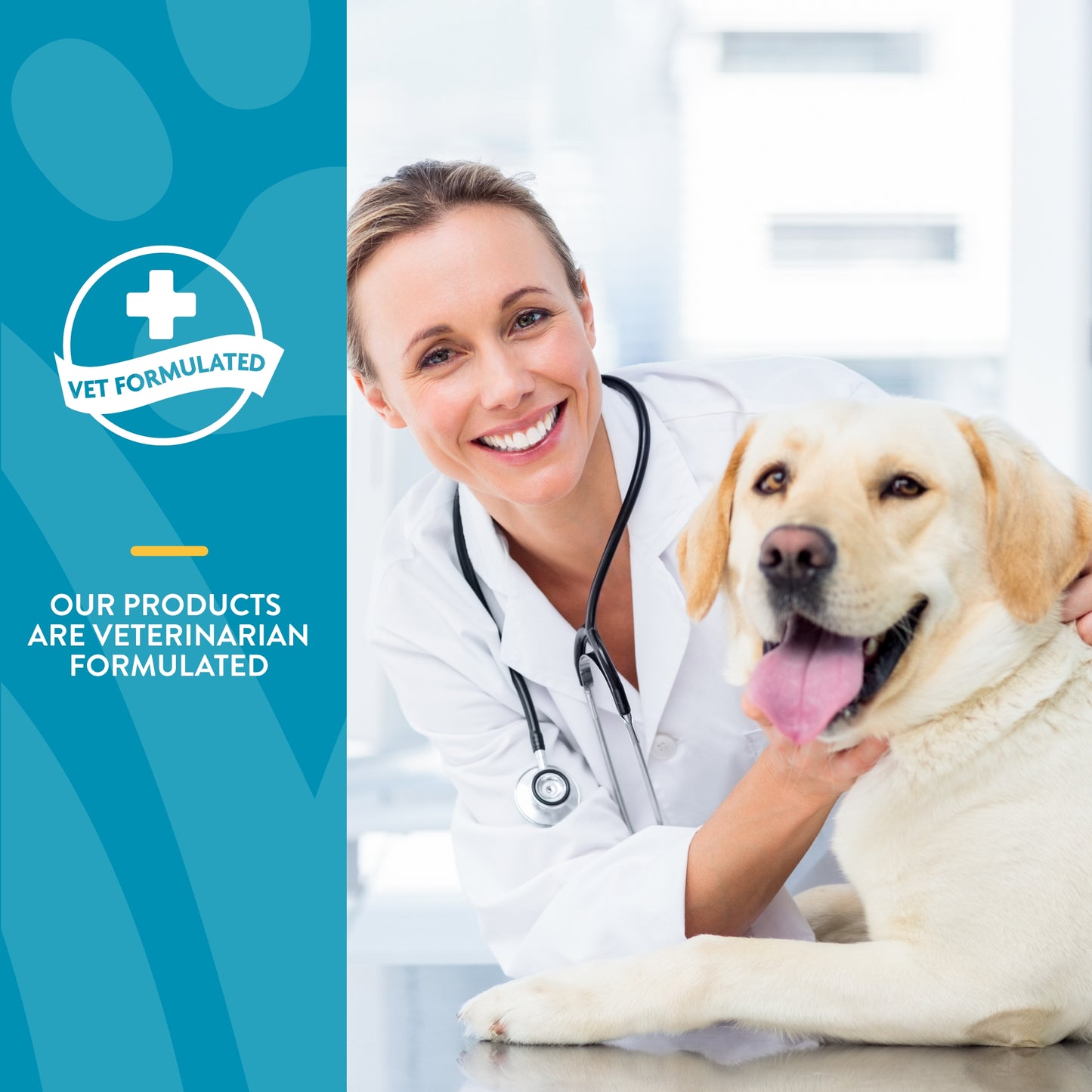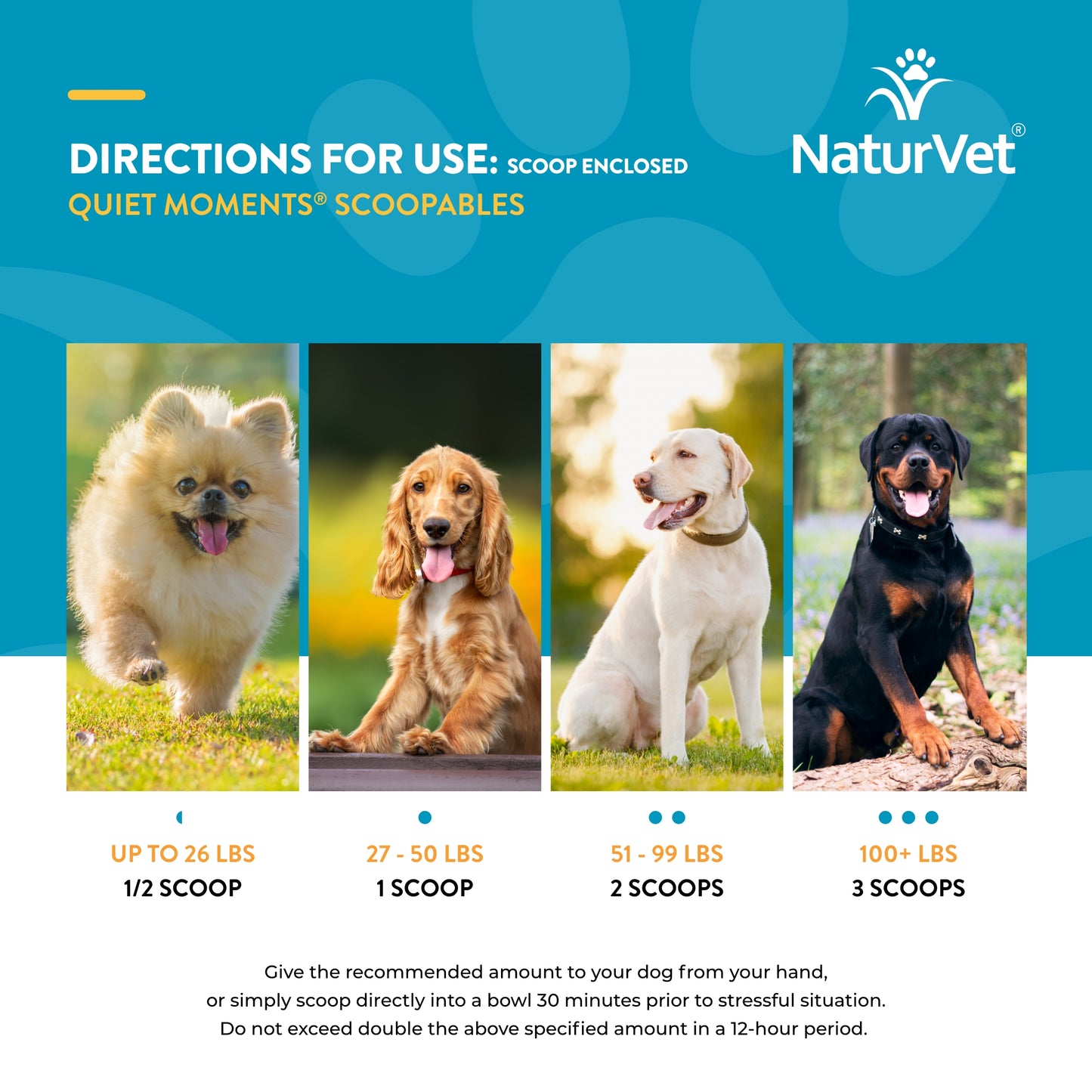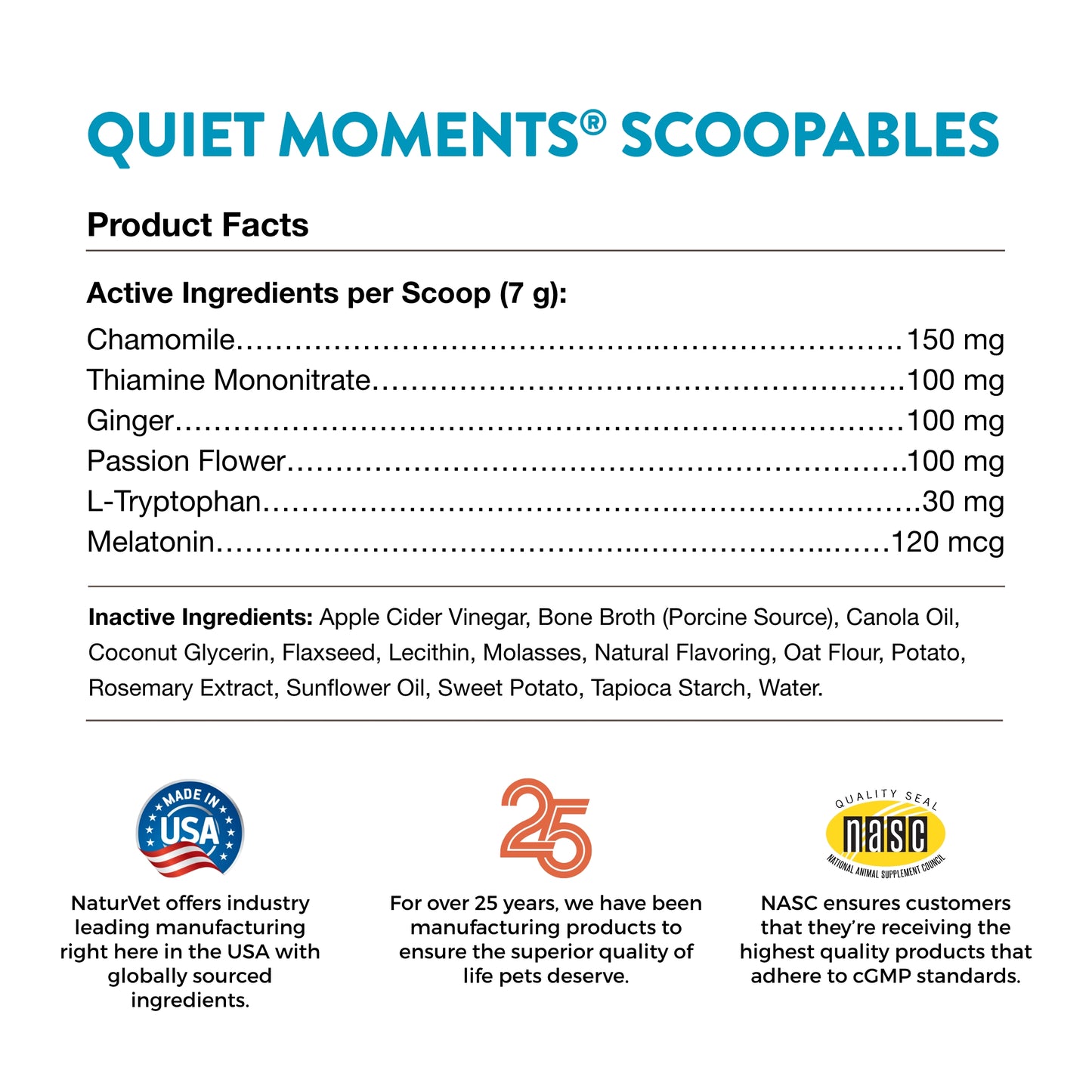 Scoopables Quiet Moments® Calming Aid for Dogs
Helps reduce stress and tension
Made with ginger and melatonin
Great for traveling, fireworks, thunderstorms, and trips to the groomer! Have an order or product issue?
We'd love to help! Please send an email to naturvet@naturvet.com and we will get back to you as soon as possible.
Really helps my dog's anxiety
My BostonTerrier is 12 years old and he's and he's having some health issues and it makes him very anxious and these really help him settle down and be able to help him sleep
The ONLY calming aid that works for us!
Our french bulldog has a big personality, including guarding the house at all times. When there's a big storm, loud noises, or high stress situations with lots of people or other dogs, we use Quiet Moments Scoopables. She is almost immediately at ease after taking them. It was unbelievable when during a big thunderstorm the other day, she was laying on her bed comfortably, no barking, gently playing with her toy. I thought this day would never come! So grateful for these Scoopables helping my baby feel at ease.