Scoopables Aller-911® Allergy Aid
Regular price
Sale price
$19.99
Unit price
per
Scoopables Aller-911® Allergy Aid
Regular price
Sale price
$19.99
Unit price
per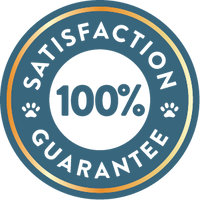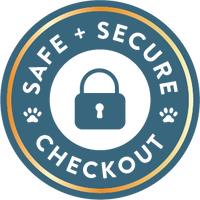 Scoopables Aller-911® Allergy Aid are flavor packed and bursting with tasty hickory smoked bacon flavor, perfect for finicky eaters and just as efficacious as our original soft chews.
Product Info

Veterinarian formulated for use in dogs over the age of 12 weeks. Contains a source of antioxidants to assist the body in combating environmental pollutants, and to protect against damaging free radicals for healthy immune system support. Omega-3 fatty acids, DHA, and EPA help maintain proper skin moisture, respiratory health, normal histamine levels, and help to soothe skin related issues associated with seasonal allergies.
Active Ingredients

Active Ingredients per Scoop (7 g):
Total Omega-3 Fatty Acids (Anchovy Oil) 53 mg
EPA (Eicosapentaenoic Acid) (Anchovy Oil) 21 mg
DHA (Docosahexaenoic Acid) (Anchovy Oil) 14 mg
Turmeric Root 50 mg
Grape Seed Extract 25 mg
Quercetin 25 mg
Pumpkin Powder 25 mg
Bromelain 25 mg
Inactive Ingredients

Apple Cider Vinegar, Bone Broth (Porcine Source), Canola Oil, Coconut Glycerin, Flaxseed, Lecithin, Molasses, Natural Flavoring, Oat Flour, Potato, Rosemary Extract, Sunflower Oil, Sweet Potato, Tapioca Starch, Water.
Directions For Use

Directions For Use: (Daily)

| | |
| --- | --- |
| Weight | Amount |
| Up to 20 lbs. | 1 scoop |
| 21 to 40 lbs. | 1-1/2 scoops |
| 41 to 60 lbs. | 2 scoops |
| 61 lbs. and over | 3 scoops |

Work into your daily routine by giving to your dog from your hand, or simply scoop directly into a bowl. Amount can be divided between AM and PM.
Cautions

If animal's condition worsens or does not improve, stop product administration and consult your veterinarian. Safe use in pregnant animals or animals intended for breeding has not been proven. May be GI irritant. Do not use in high doses with anticoagulant drugs or patients with stomach ulcers. Not to be used with blood thinners or anticoagulants.

Warnings:
Not for human consumption. Keep out of the reach of children and animals. In case of accidental overdose, contact a health professional immediately. Due to the tasty nature of our products, do not leave package unattended around pets.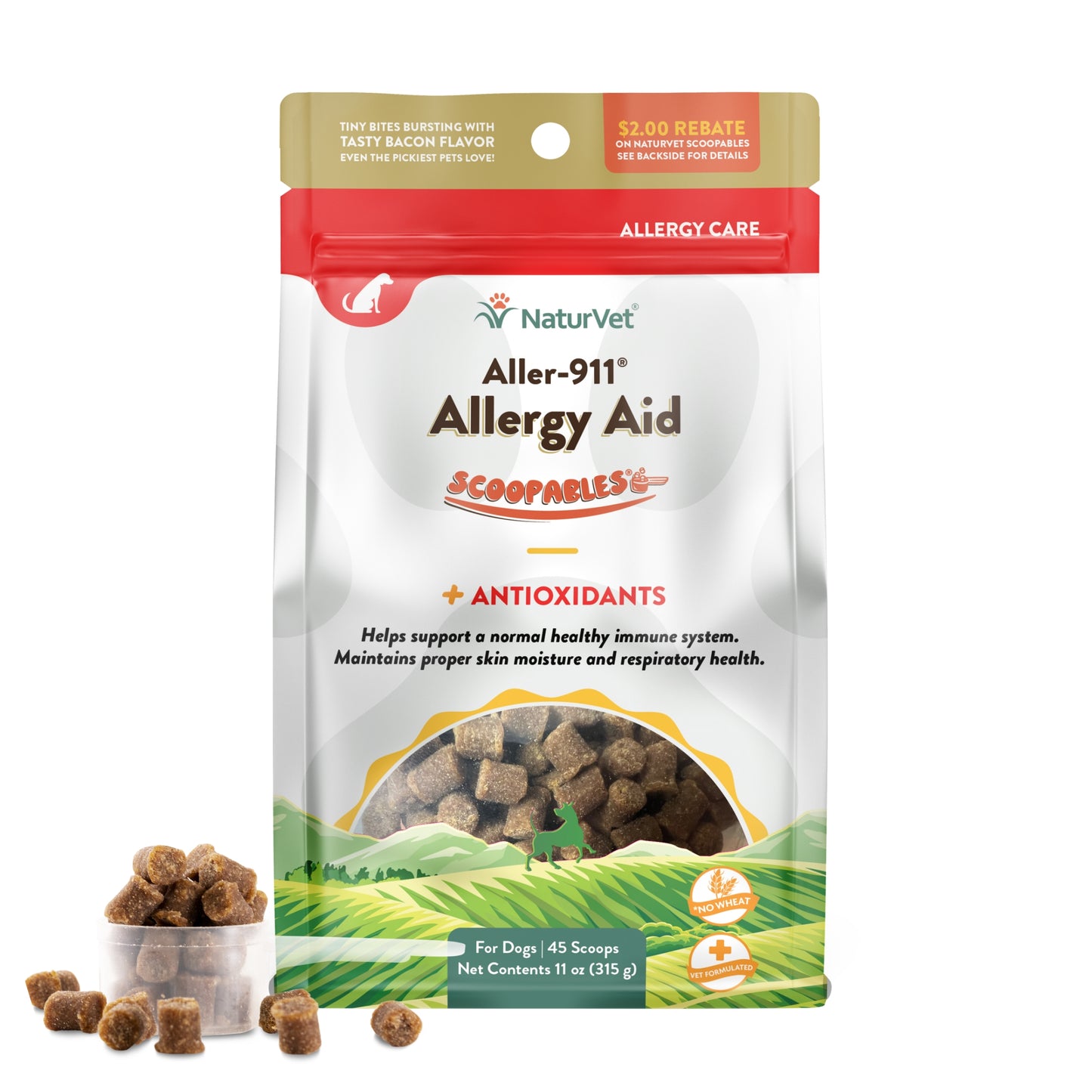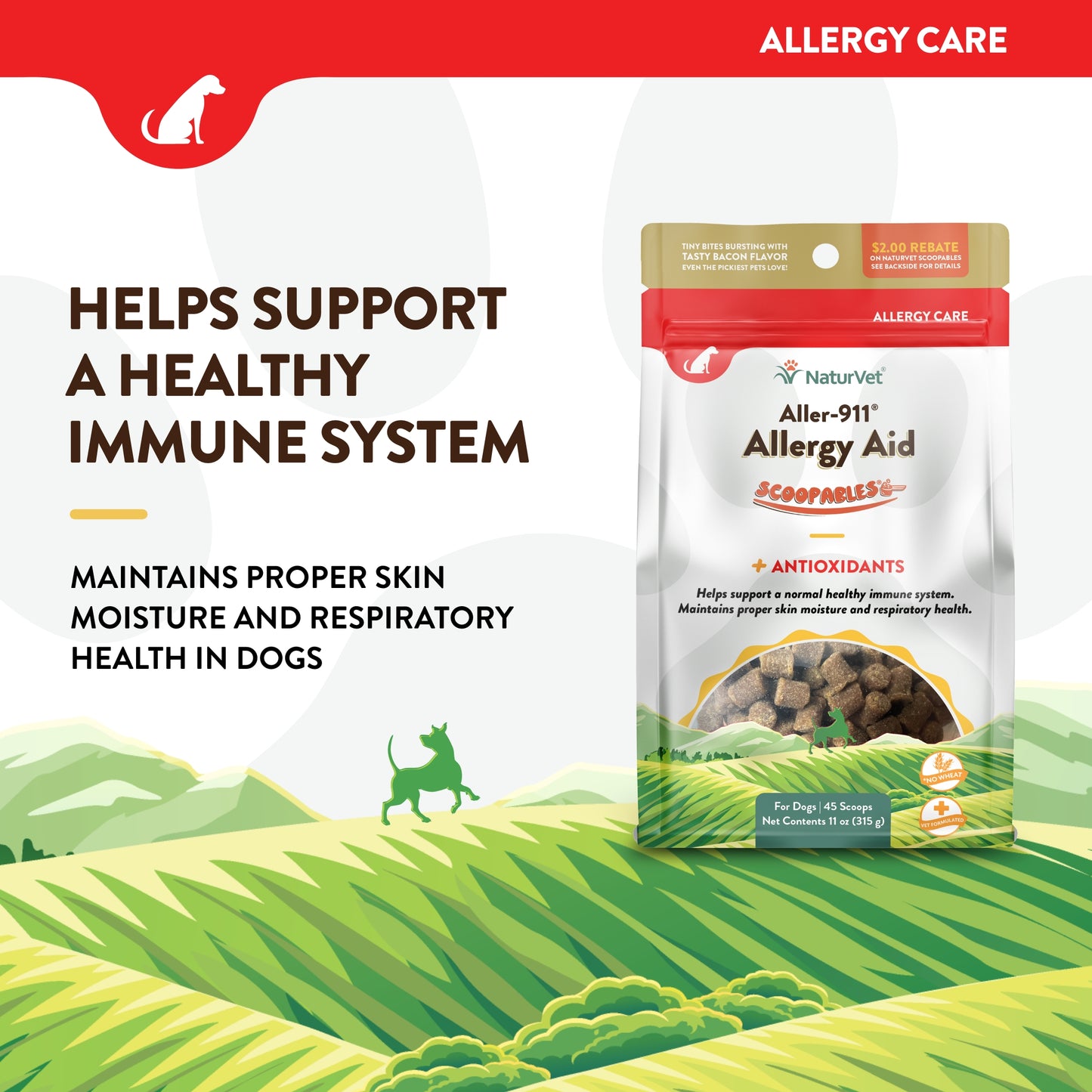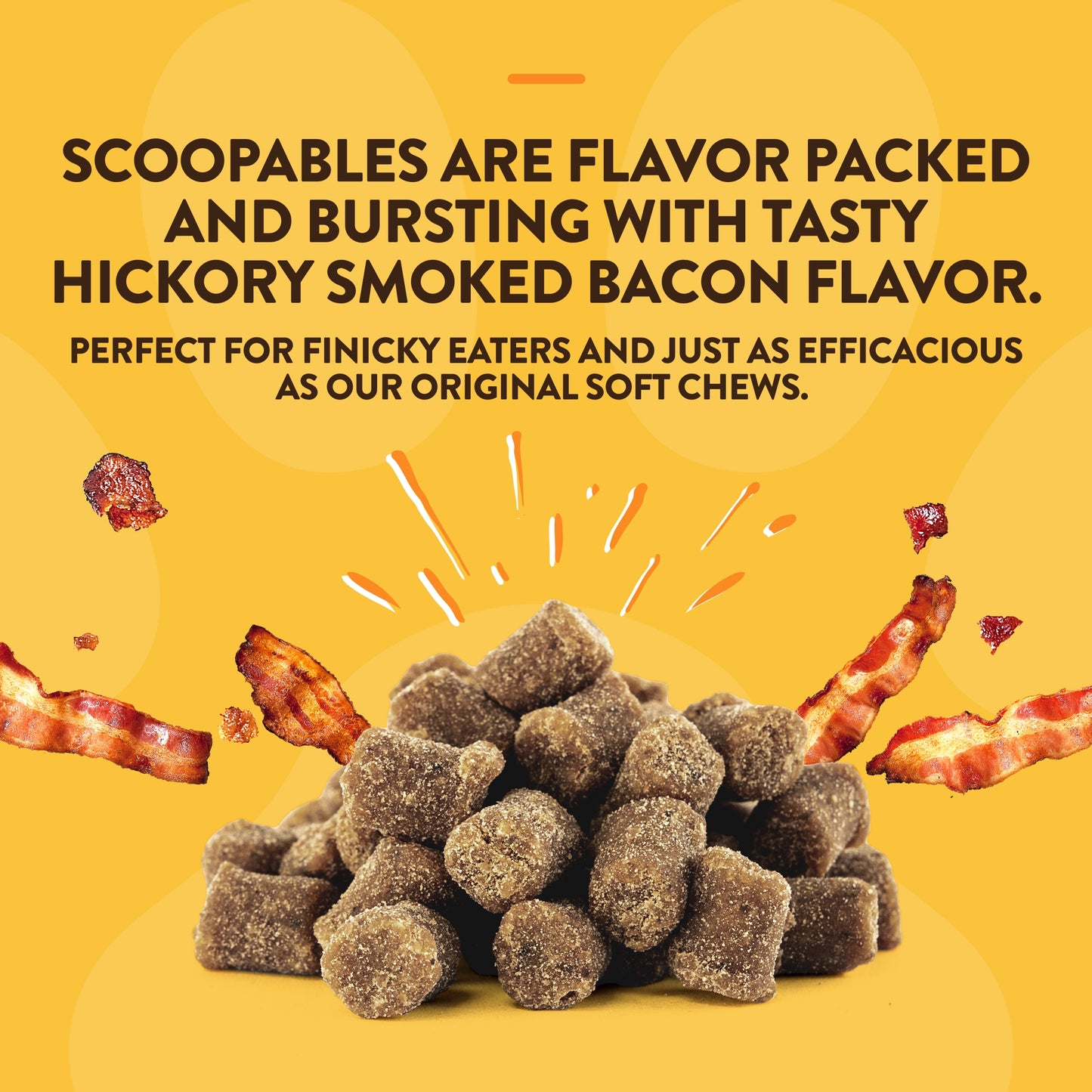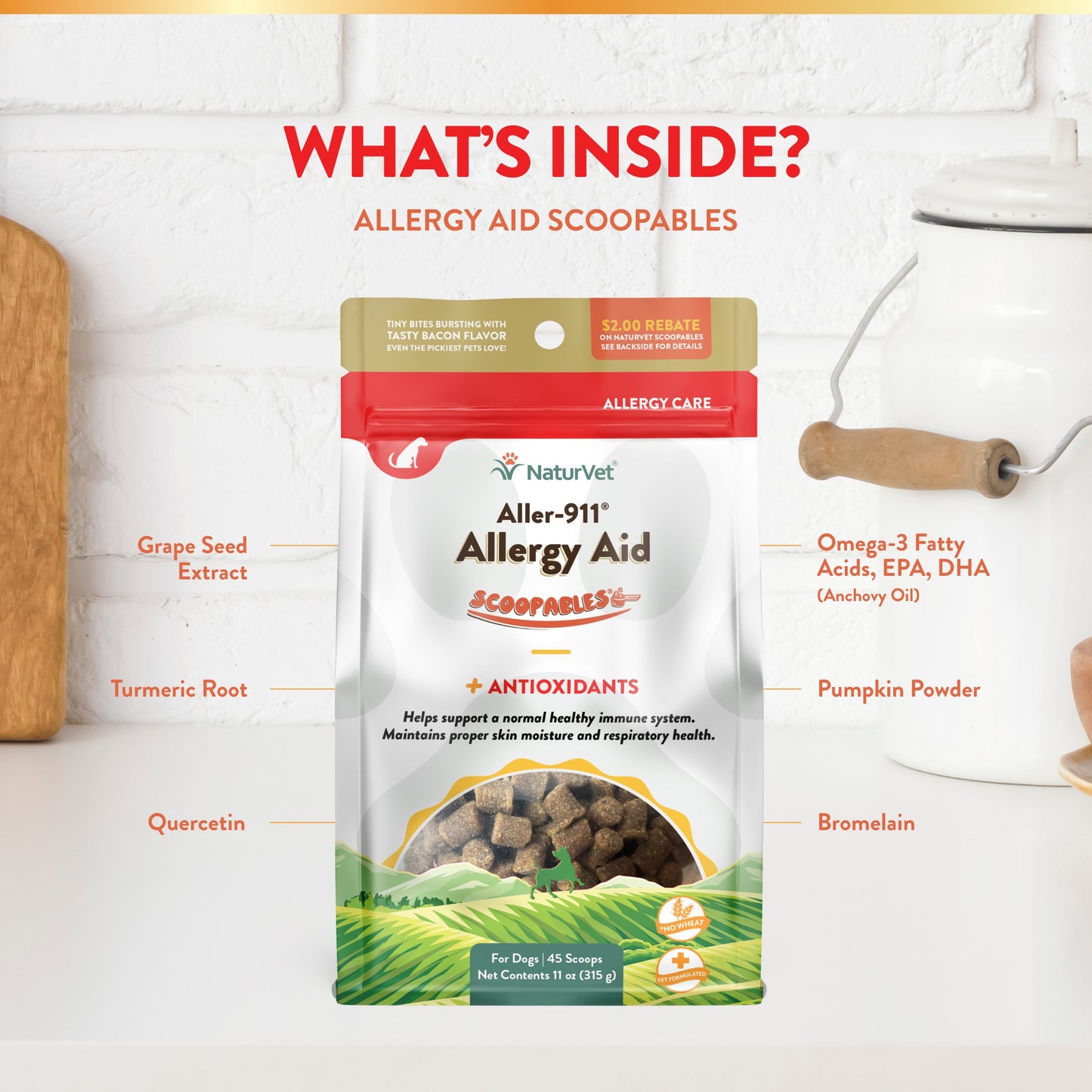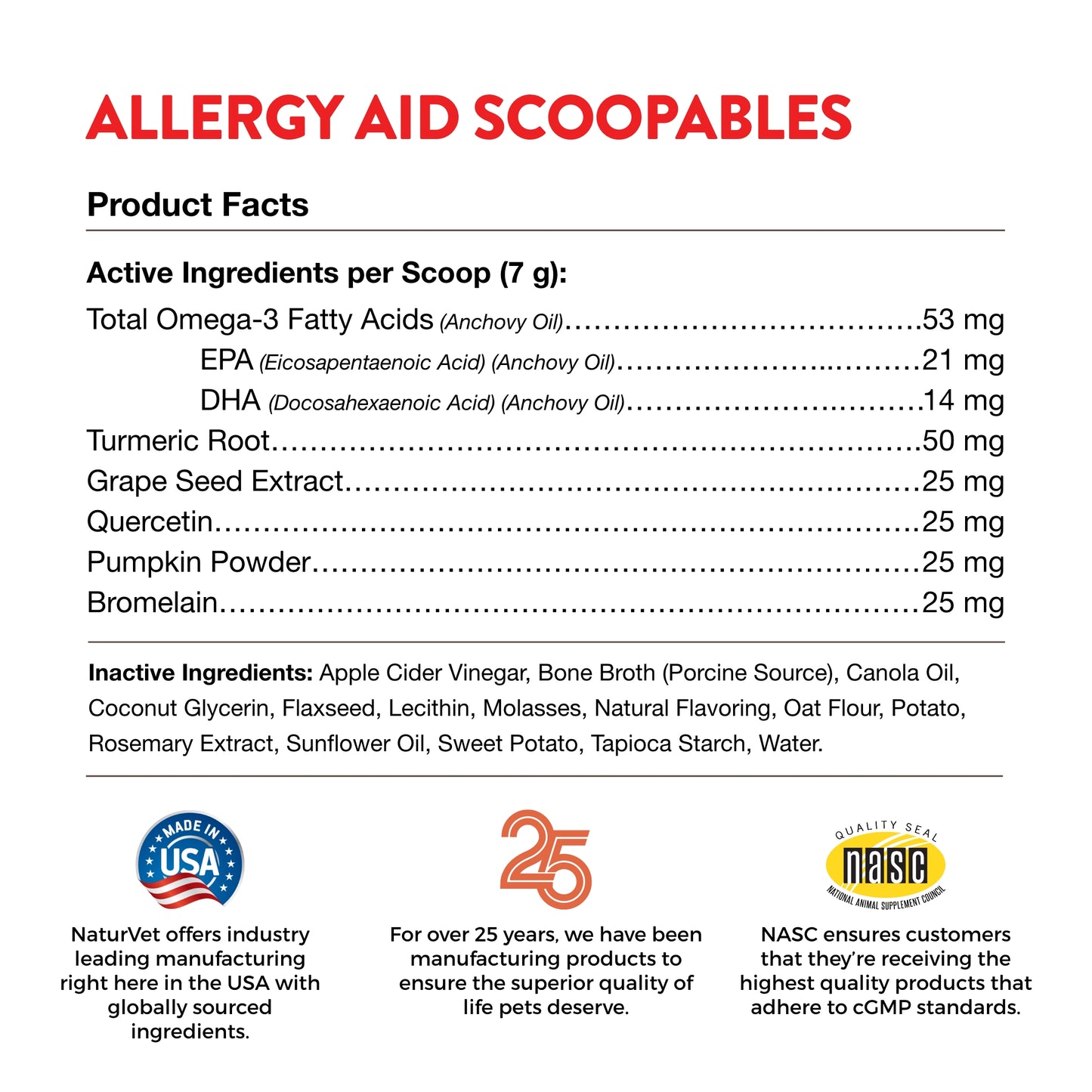 Scoopables Aller-911® Allergy Aid
Provides a source of antioxidants for healthy immune system support
Rich in Omegas, DHA and EPA to help maintain proper skin moisture and respiratory health Have an order or product issue?
We'd love to help! Please send an email to naturvet@naturvet.com and we will get back to you as soon as possible.
Works for Seasonal Allergies!
My dog has seasonal allergies and gets really itchy paws when he goes out for too long. I started giving him the recommended scoop on days when he's outside more or at the park, and I can definitely see an improvement! Not only is he licking his paws less, but his tear stains are less prominent from eye boogies.