Digestive Enzymes Cat Soft Chews with Prebiotic & Probiotic
Regular price
Sale price
$12.99
Unit price
per
Digestive Enzymes Cat Soft Chews with Prebiotic & Probiotic
Regular price
Sale price
$12.99
Unit price
per
Additional Quantities Available at Select Retailers - Find a store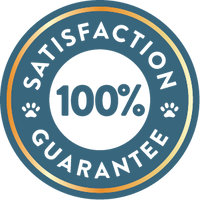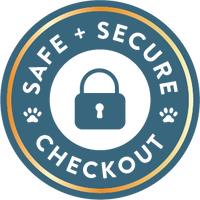 NaturVet® Digestive Enzymes Cat Soft Chews are for use in cats over the age of 12 weeks. A source of: alpha-Amylase which can hydrolyze starch. Protease which can hydrolyze proteins. Cellulase which can break down cellulose. Lipase which can hydrolyze triglycerides.
Contains a source of live (viable) naturally occurring microorganisms.
Product Info

For use in cats over the age of 12 weeks. A source of: alpha-Amylase which can hydrolyze starch. Protease which can hydrolyze proteins. Cellulase which can break down cellulose. Lipase which can hydrolyze triglycerides.
Guaranteed Analysis

Guaranteed Analysis per 2 soft chews:
Moisture (Max.) 5.4%
*alpha-Amylase (Aspergillus oryzae) 1,160 SKBU1
*Lipase (Aspergillus niger) 105 LU2
*Cellulase (Trichoderma longibrachiatum) 37 CMCU3
*Protease (Papaya) 11,000 PU4
*Bacillus coagulans (Probiotic) 50 Million CFU
(All values are minimum unless otherwise noted.)
*Not recognized as an essential nutrient by the AAFCO Cat Food Nutrient Profiles.

(1) One SKB unit is defined as the amount of enzyme needed to form 10 mg of reducing sugars from 1% soluble starch solution at pH 5.0 and 40 °C in 30 minutes. (2) One FCC Lipase Unit (LU) is defined as that quantity of enzyme that will liberate the equivalent of one μmol of acid (H+) per minute from the substrate, under the conditions of the assay. The assay is based on a five-minute hydrolysis of an olive oil substrate at pH 6.5 and 30 °C. The fatty acids released on hydrolysis of the glycerol esters are determined by titration with sodium hydroxide. (3) One carboxymethyl cellulose unit (CMCU) is that amount of enzyme which liberates one micromole of reducing sugar (expressed as glucose equivalents) in one minute under the conditions of the assay. (4) The activity of papain is measured in the FCC PU; the assay of which is based on the hydrolysis of casein. This assay is based on a 60-minute proteolytic hydrolysis of a casein substrate at pH 6.0 and 40 °C. One PU (Papain Unit) is defined as that quantity of enzyme that liberates the equivalent of 1μg of tyrosine per hour under the conditions of the assay.
Ingredients

Brewers Dried Yeast, Dried Potato Product, Glycerin, Flaxseed, Lecithin, Canola Oil, Water, Calcium Sulfate, Fructooligosaccharides, Dried Aspergillus oryzae Fermentation Product, Dried Aspergillus niger Fermentation Solubles, Dried Trichoderma longibrachiatum Fermentation Product, Papaya, Dried Bacillus coagulans Fermentation Product, Salmon Flavoring, Tapioca Starch, Sorbic Acid (a preservative), Natural Flavoring, Mixed Tocopherols (a preservative), Vegetable Oil.
Feeding Directions

Amount
2 soft chews per meal, up to 4 soft chews per day.

This product is intended for intermittent or supplemental feeding only. Due to the tasty nature of our products, do not leave package unattended around pets.
Calorie Content

Calorie Content (Calculated) ME:
4,000 kcal/kg, 12 kcal/2 chews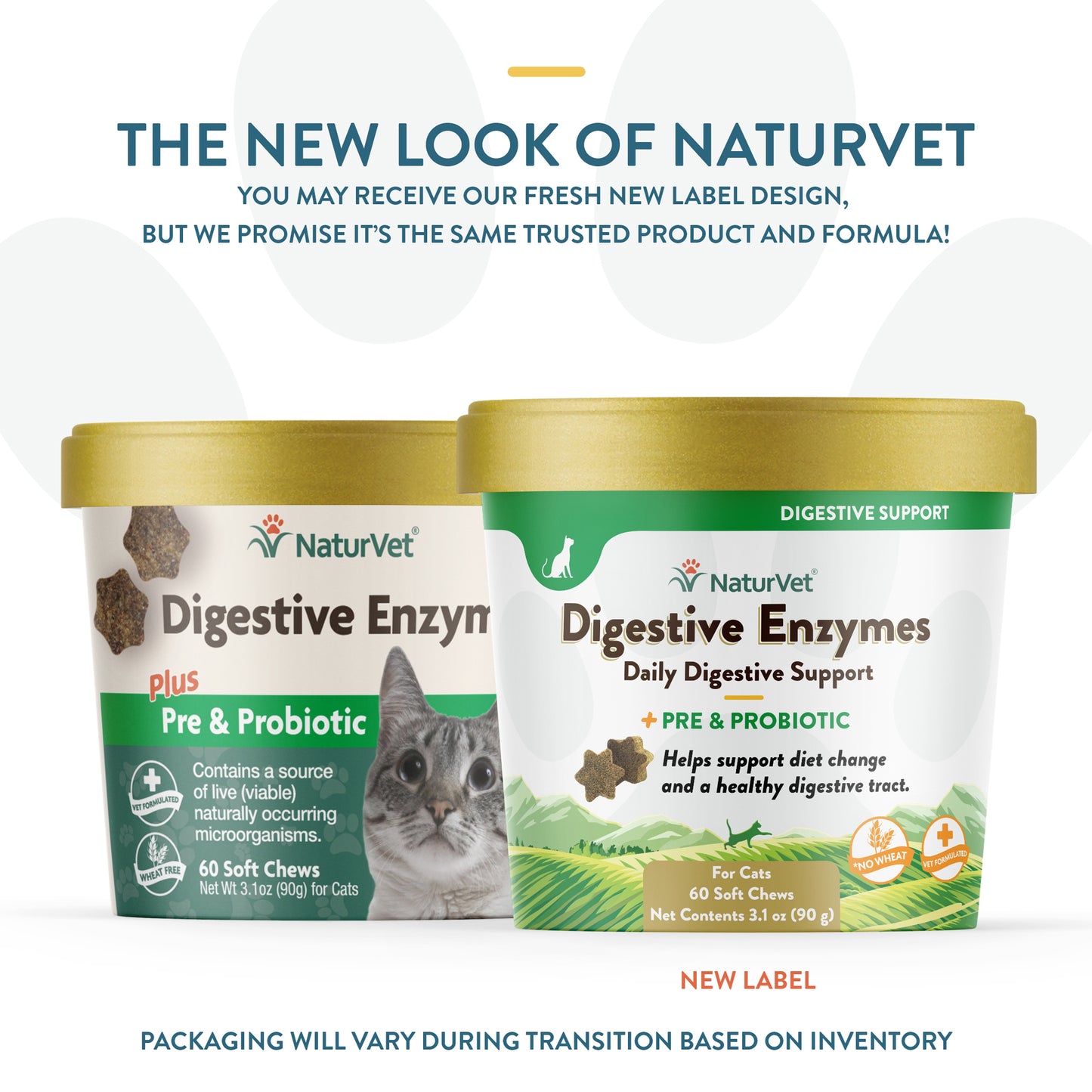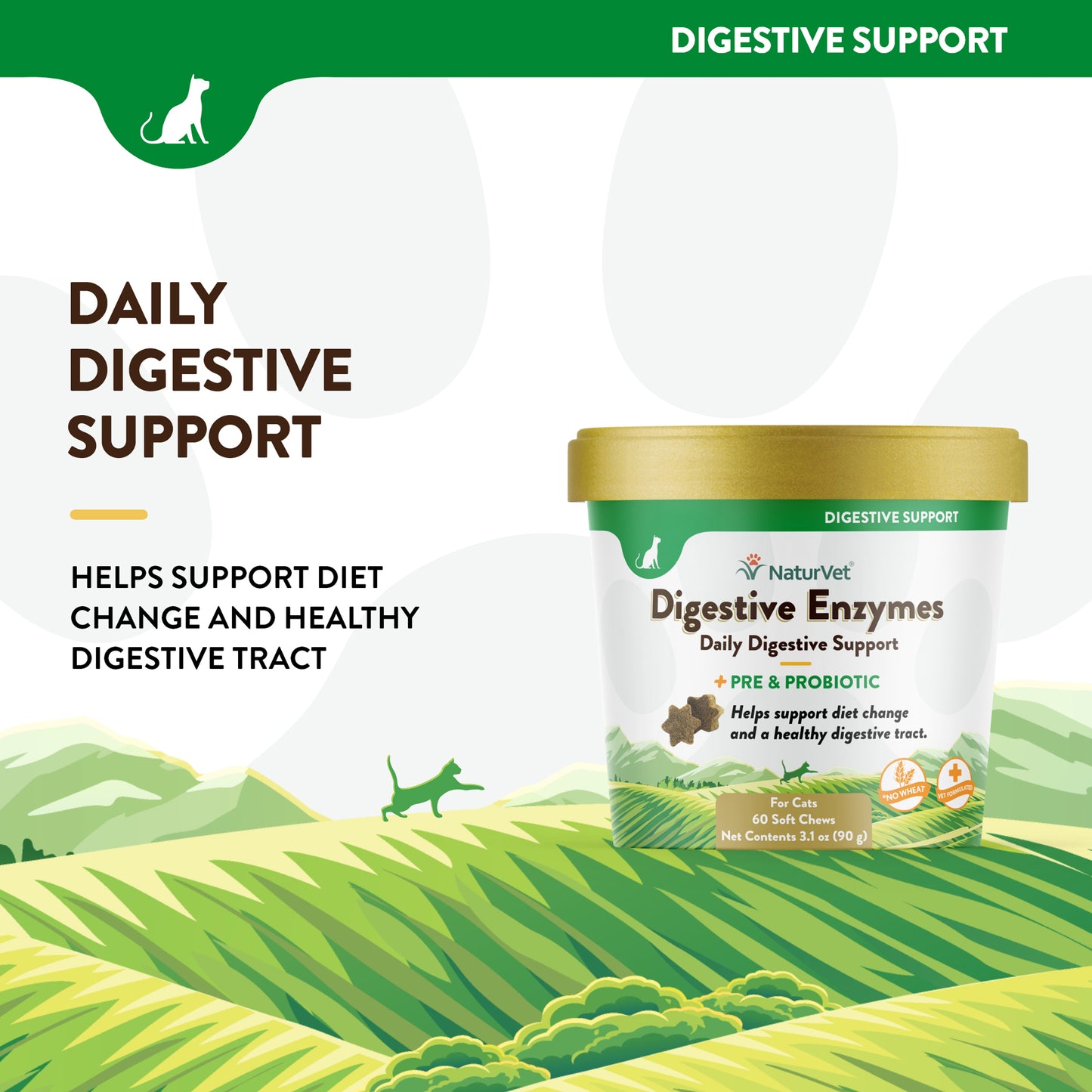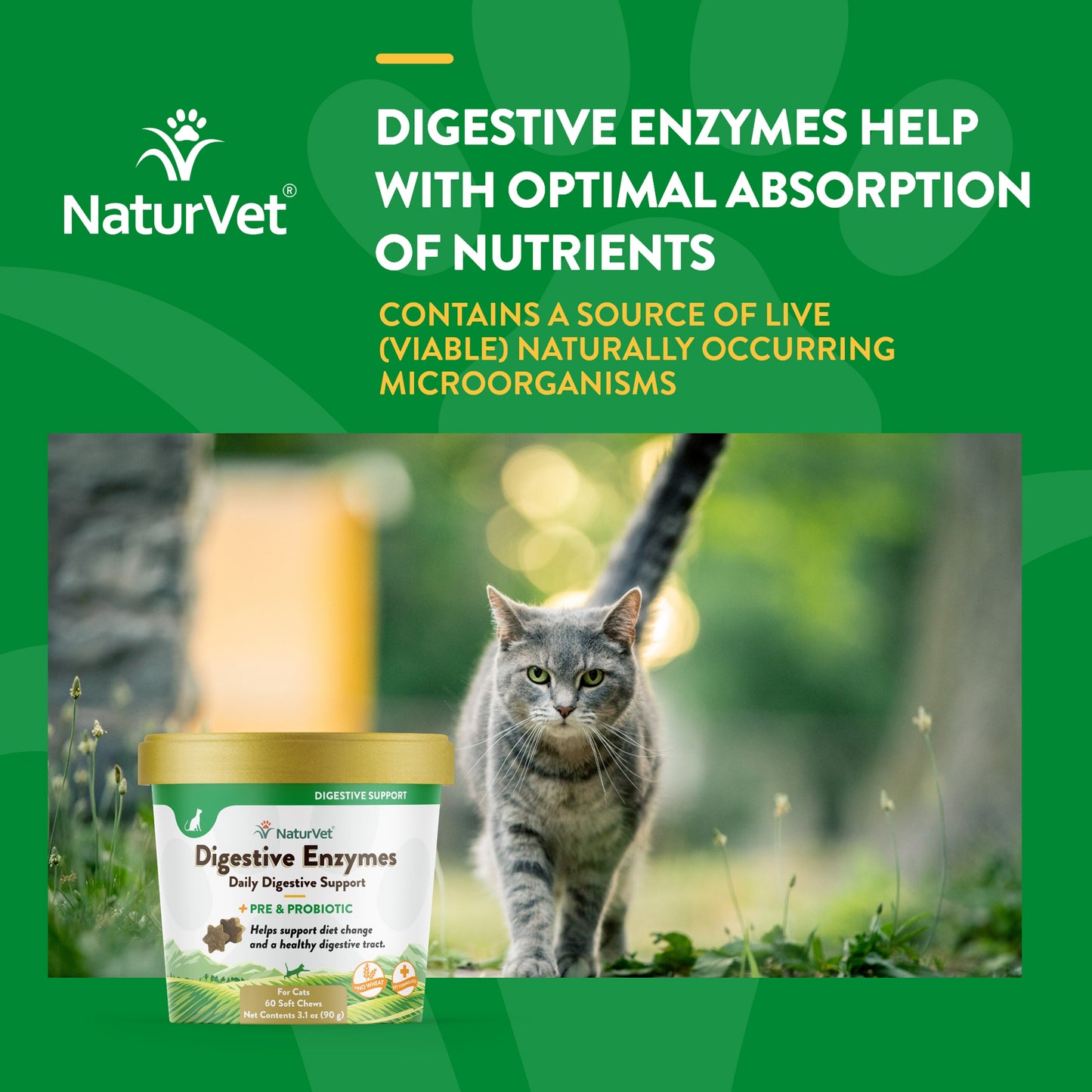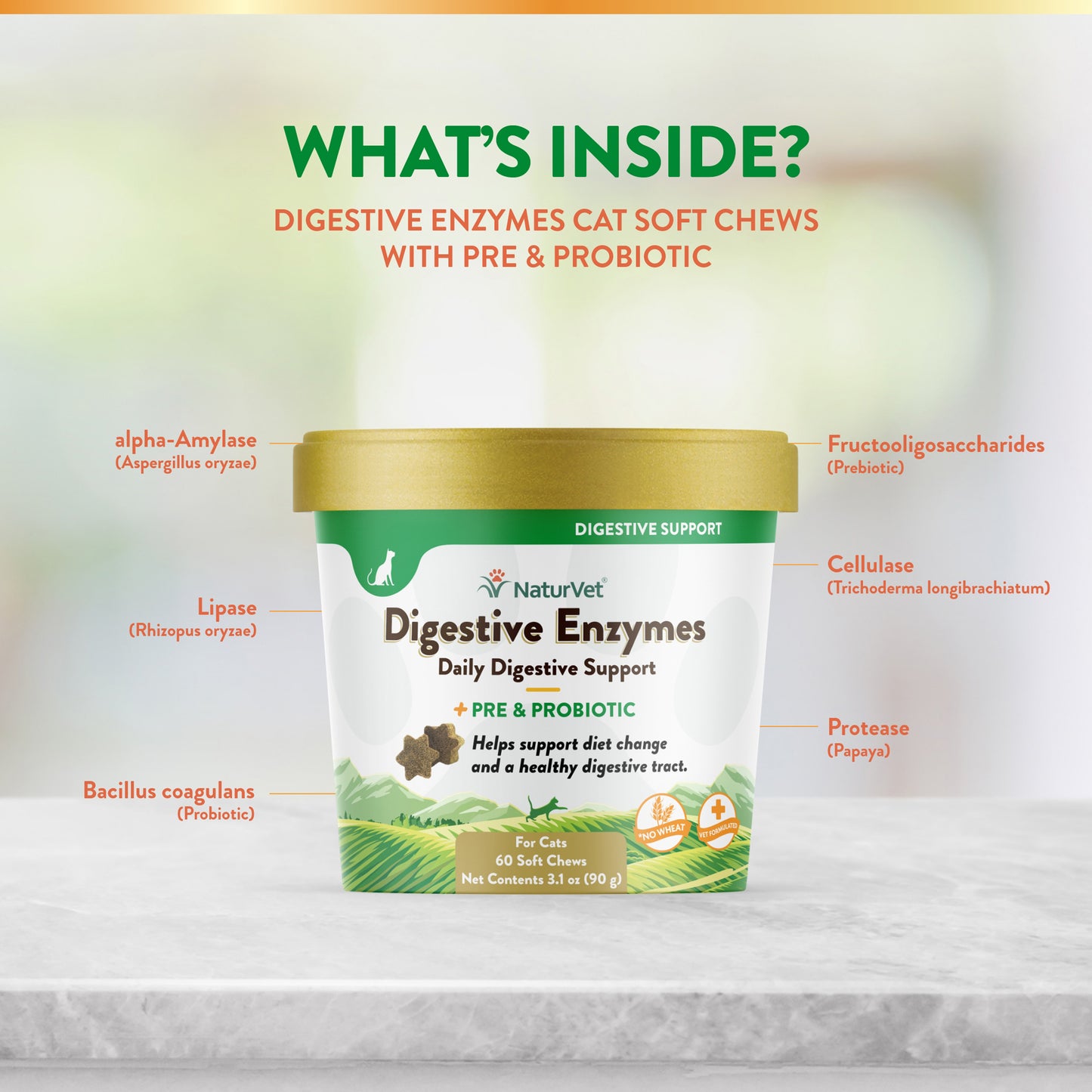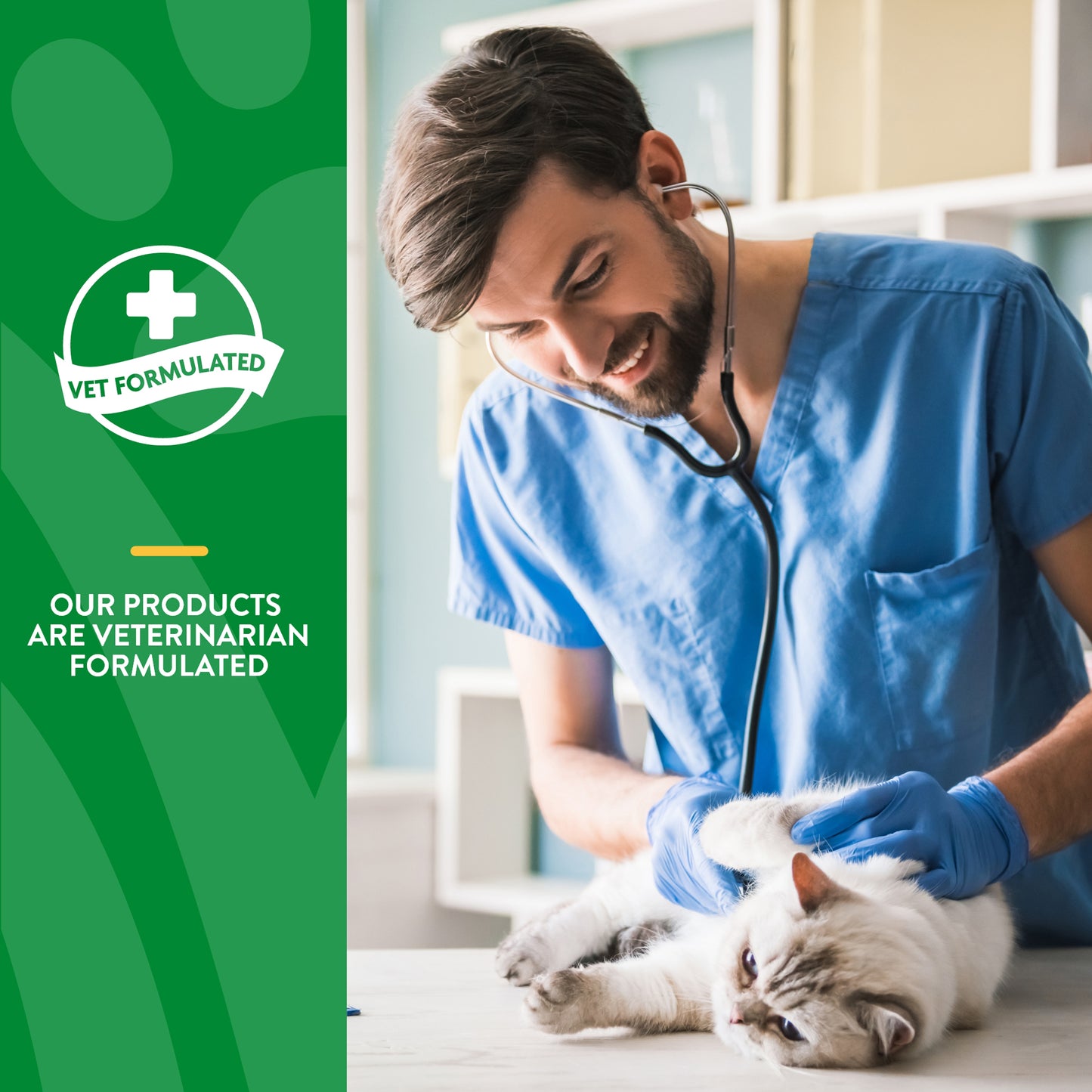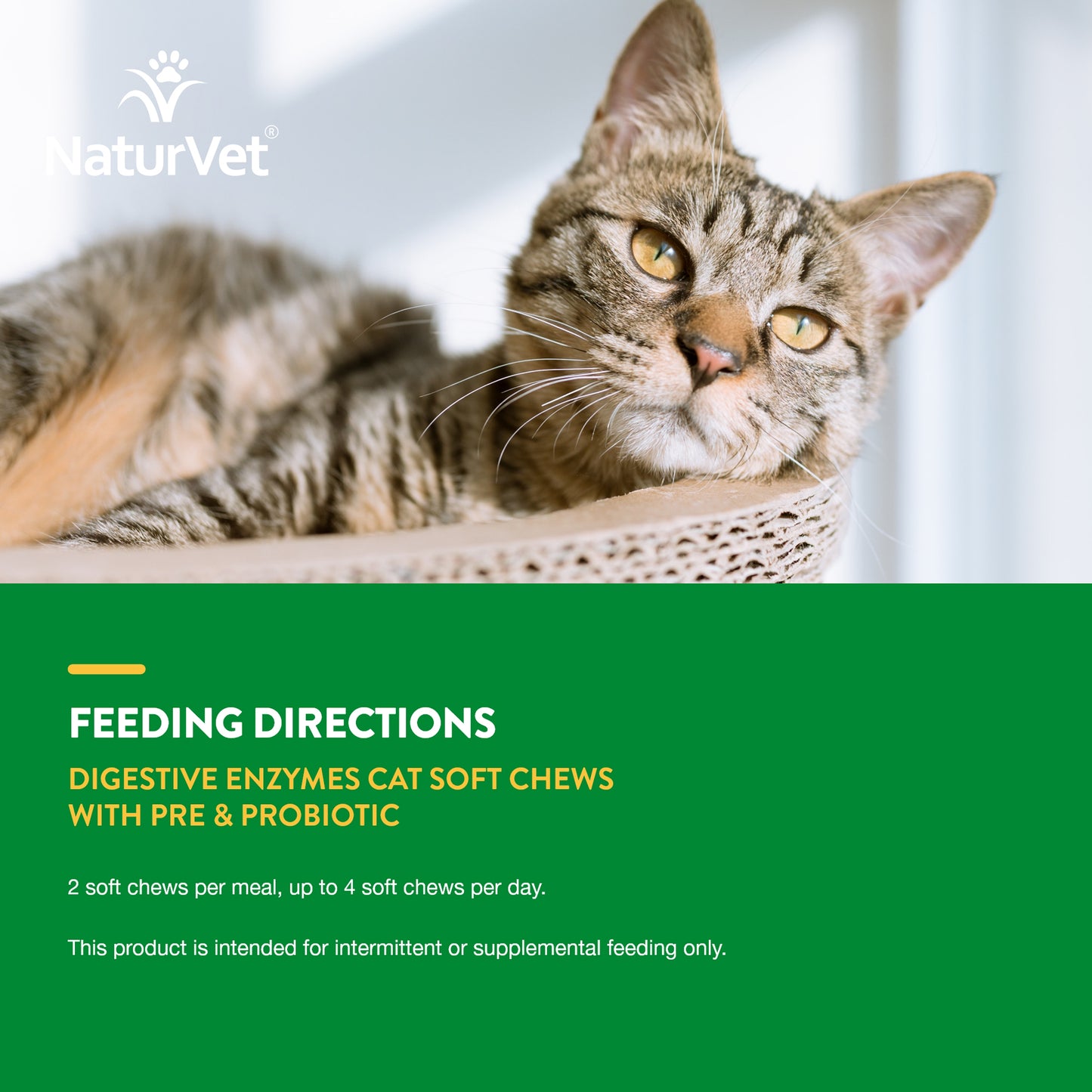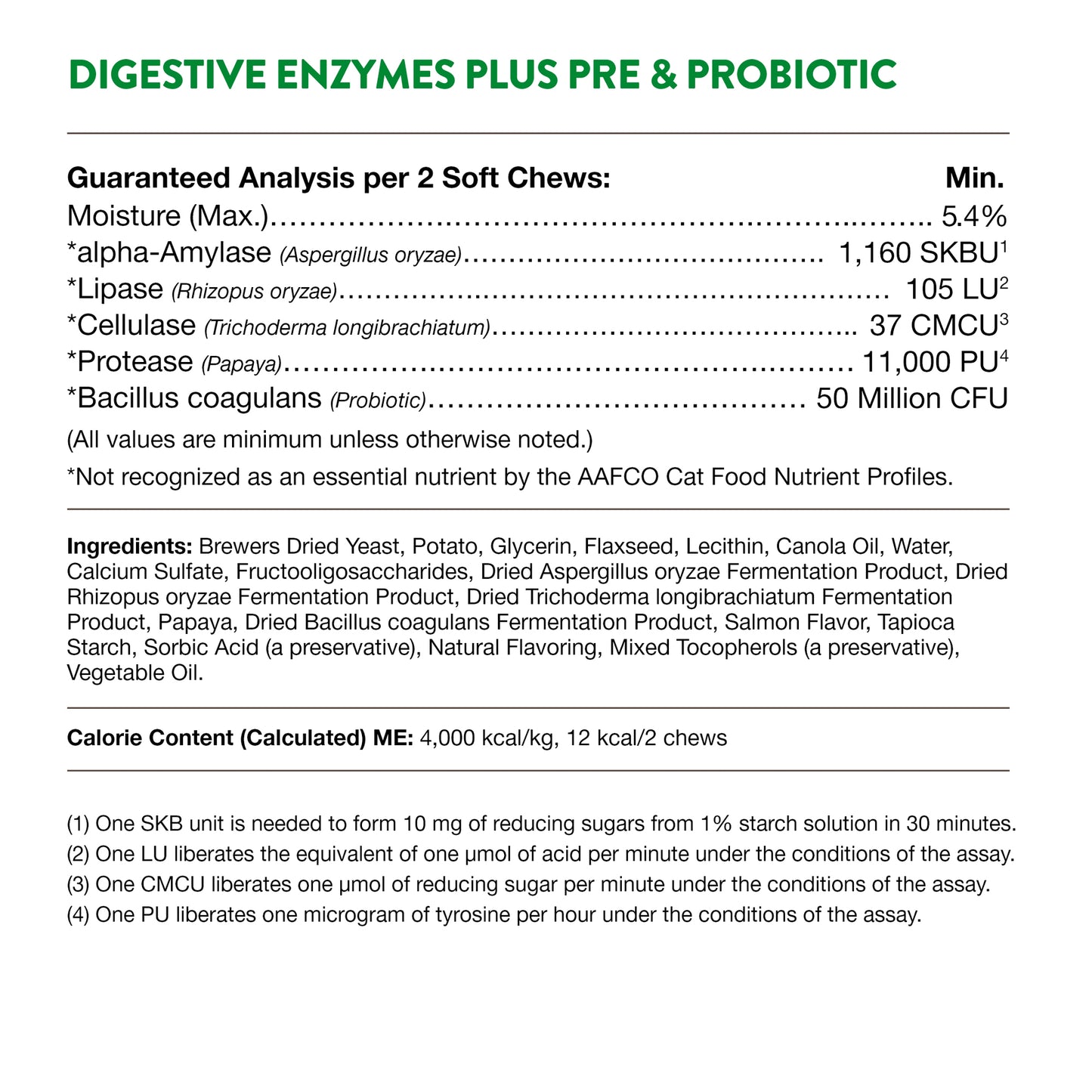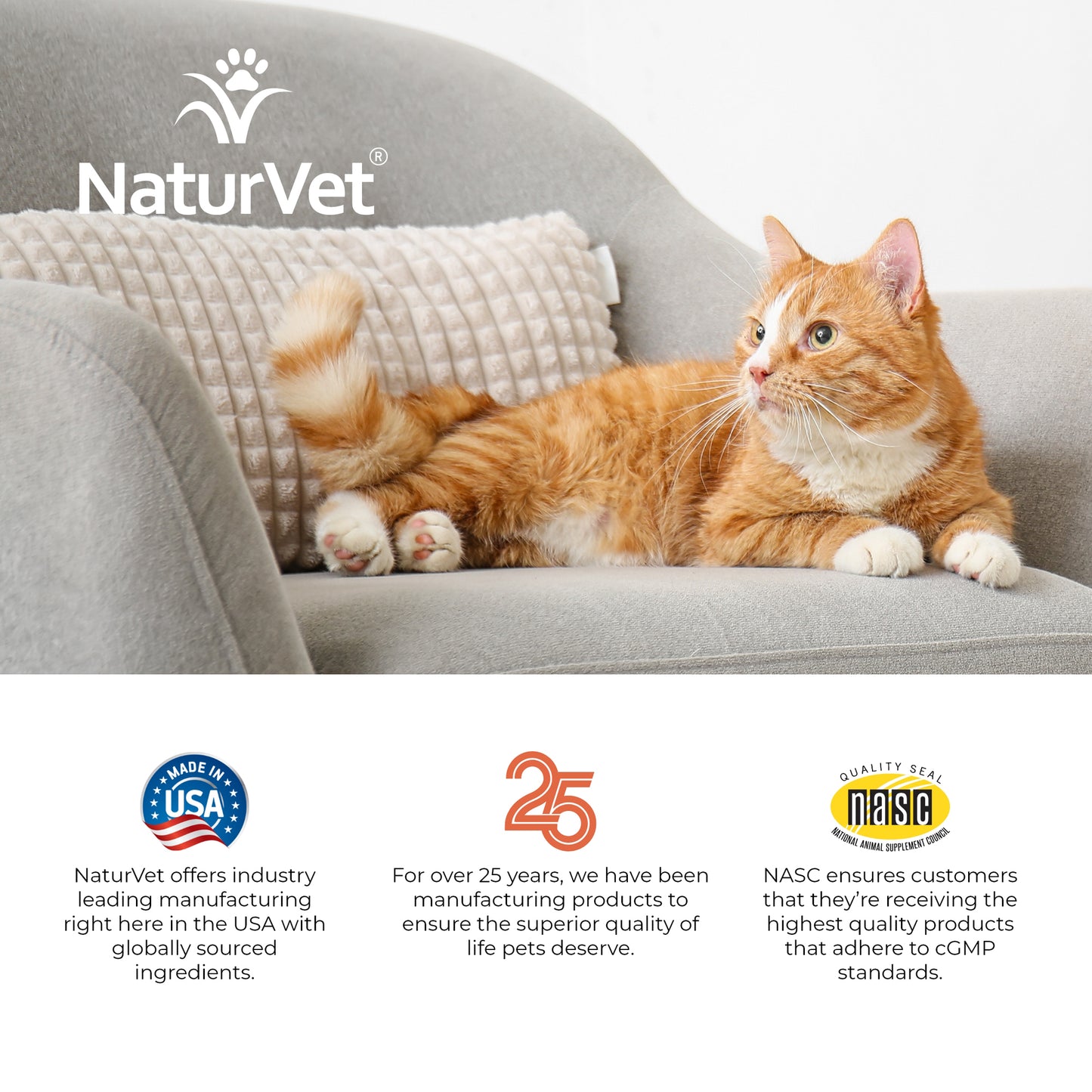 Digestive Enzymes Cat Soft Chews with Prebiotics & Probiotics
Helps to unlock vitamins, minerals and other important nutrients from food for optimal absorption
Great for food transitioning
Provides energy due to better utilization of nutrients Have an order or product issue?
We'd love to help! Please send an email to naturvet@naturvet.com and we will get back to you as soon as possible.
Our 12 year old cat is a picky eater with digestive issues which caused problems with very smelly loose stools. The vet recommended prebiotics, but we had a hard time finding any he would actually eat. He loved your Prebiotic and Probiotic chews, and looked on them as treats, enjoying them with each meal. Best of all they actually worked! His stools are firmer and his stomach upsets are fewer. The only problem we have had was finding them! Thank you so much for providing this very hard to find chew!
Hi Deborah,
We're happy to hear your cat enjoyed the taste of our Digestive Enzymes with Pre & Probiotics and that it helped his stomach and loose stool problems. We are sorry to hear that finding this product has been a challenge for you! You can always check our online retailers to see if you can more easily find this product in stock https://naturvet.com/where-to-buy/.
My 1.5 year old cat had Giardia as a kitten. Though the Giardia was cleared up with antibiotics, it must have also killed off all her beneficial bacteria. She has suffered with loose stools forever and I would have expensive tests run that would always come back negative for parasites, etc. It had gotten to the point where she was suffering from explosive, pure water diarrhea 3-4 times a day and I was desperate. I came across discussions about the successful use of probiotics for feline diarrhea and decided to give this a shot. This has been nothing short of a miracle. (And I'm not one to rave about things.) Within two days her stool was getting thicker and she wasn't using the litter box as frequently. Today is day five and she continues to improve and although she was active before, she is more playful and also more peaceful at rest than she has been for months. As I do more research, it is obvious how terrific pre and probiotic supplements are for cats. Thank you for this terrific product. (Also, my cat gobbles these up and if she gets finicky, I give her a couple of treats and then the supplement, and down it goes!)
Deborah,
We are overjoyed to hear about your cats success with this product! We always love to put reviews like this on our Social Media pages! If you're interested, please email us at facebook@naturvet.com!
This product was a lifesaver! After the prescription food for my cat went out of stock for months, I'd been troubleshooting to find a way to help my cat and her diarrhea. This product helped within 2 days! I'm so grateful for this, and the affordability of this product! It has made me and my cat super happy. Thank you!!!
We're so glad the Digestive Enzymes helped your sweet girl! We'd love to post your review and photo! Email us at facebook@naturvet.com if you're interested!
My 14 year old cat has stopped making frequent large smelly poo after only 2 days of 2 chews per meal. He has more energy and is eating all his food again. But most importantly he will eat the digestive chews like a treat.
Hi Cheryle,
Great to hear that the Digestive Enzymes with Prebiotics & Probiotics have been so beneficial to your cat, and that he enjoys the taste. Keep us posted on his ongoing progress!